Normally when you press and hold the sleep button on your iOS devices, you will be greeted with a simplified "Slide to power off" message and sliding on the bar will put your iOS device into power OFF mode. How nice could it be if users can get more options rather than just a simple OFF button which could be too limited. If you are looking for a tweak to achieve more options for selection, here is the simple tweak from Cydia that you can try.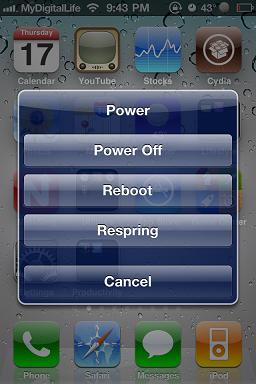 Named as PowerUp, it enables additional options on the menu screen as and when users trying to put their iOS devices into off state, and rather than being offered with a single option to power off their device, now users will able to have additional three options of either reboot, respring or cancel the action. Follow below simple steps and you should be able to enjoy such features:
Head over to Cydia, then search for PowerUp under Search option.
Download it and follow by Springboard restart and you are done.
While it doesn't seem to be really useful for some users, but this is definitely a good tweak for those that would prefer more options than conventional menu. Furthermore, the tweak is totally free for download from Cydia (with condition that you have your IOS devices jailbroken) so do try it out yourself at no charge.