PPTminimizer for Word and PowerPoint is an utility to compress PowerPoint presentations and Word documents without changing the file formats. PPTminizer ables to reduce the size of PowerPoint presentations and Word documents by up to 98% of their initial original size by using an intelligent compression technique. Best still, PPT minimizer is not a ZIP or RAR achiever, as it preserves original file format and without any quality loss.

With PPTminimizer from Balesio, people who always facing problem cannot send file via email or mail gets bouncing back due to file size over limit no longer need to worry. The downsize PPT and DOC files is also smaller and easier for sharing, distribution or publication through Internet, and will have faster loading and downloading time from mailboxes, servers and networks. The same file format also allows recipients to open and edit the files instantly without having to unzip or decompress them.
Features of PPTminimizer:
Compresses all PowerPoint presentations from PowerPoint 97 to 2007 (PPTX, PPTM, PPSM, POTX, POTM, PPT and etc.)
Compresses all Word documents from Word 97 to 2003 (DOC).
Keeps the original file format – no unzipping required.
Compresses StarOffice and OpenOffice presentations and documents provided they are saved in a Microsoft format.
Compact edition runs directly from CD or USB flash drive – no installation required.
Integrated search wizard function: finds all PowerPoint presentations and Word documents on PCs and networks.
"Drag & Drop" files directly into PPTminimizer to optimize several files at once.
4 different compression levels.
Add-ins for Microsoft Outlook, PowerPoint, Word and Windows Explorer.
Fully compatible with Windows Vista.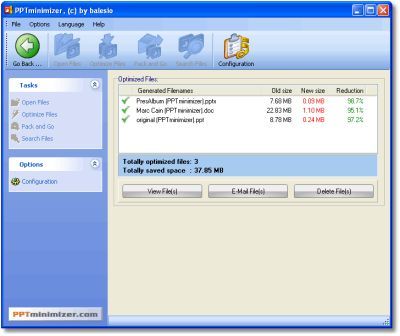 The single user license of PPTminimizer for personal use costs € 29,95. However, Balesio has offered free license with registration product key for PPTminimizer 4.0, the latest version available, to PC Advisor readers, and PPTminimizer 3.0 to PC User Australia readers (in actual, it's also PPTminimizer 4.0).
To get your free serial number for PPTminimiser, go to one of these registration link, depending on which version you want:
PPTminimizer 4.0: http://www.balesio.com/campaign/licensing/index.aspx?CID=pcadvisor
PPTminimizer 3.0 (4.0 too): http://www.balesio.com/campaign/licensing/index.aspx?CID=pcuser
Enter the name and email address to receive the free serial number to unlock the trial version and the download links (listed below). After installation, upon launching the application, click on Enter registration Code button, register the unlock code (Serial no, Field #1 : Single User License and Field #2) to activate the full version PPTminimizer.
Download PPTminimizer 4.0: PPTminimizer-Setup.exe
Note: The free serial number received may only work with the PPTminizer setup installer supplied with the cover CD of PC Advisor or PC User.