Wonder which specific files or folders that have taken up most of your hard disk space? Instead of manually searching for the biggest folders or files in your system, here is a simple software utility that can help you sorting them out in simple steps. Named as Primitive File Size Chart, it will help to analyze and display all the huge size folders and files and list them all down together with the file size and path so that users can zoom into the biggest files for backup or deletion.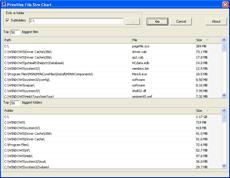 Basically the main screen is divided into two portions that will show the top number of biggest files and folders respectively. There is a tiny box that allows users to key in the top biggest files/folders so that it will display all them out in sequence sorted by file size. Besides, users can specify the search in the main folder or even the subfolders depending on own needs. This is especially useful when you are run out of hard disk space and are trying to figure out simple ways to free up some of the space without the need to upgrade to a new hard disk drive. Most of the time, those bulky files could be rarely used and can be either deleted or backed up to external storage drive.
The software utility is completely standalone (without installation required) and it is compatible with Windows 2000, XP and even Vista. If you think this is useful, just go and download it here at no charge.