With the rapidly growing of advanced malicious software and hacking techniques nowadays, traditional software solutions like anti-virus and ant-spyware are no longer able to provide 100% proactive protection anymore. There are a lot of latest, dangerous form of malwares and intrusions available in internet such as crimeware, keyloggers, rootkits and in order to ensure your computer is highly protected from these malicious software, Privatefirewall provides you a multi-layered defense solution for Windows desktops and servers preventing from malware and unauthorized use.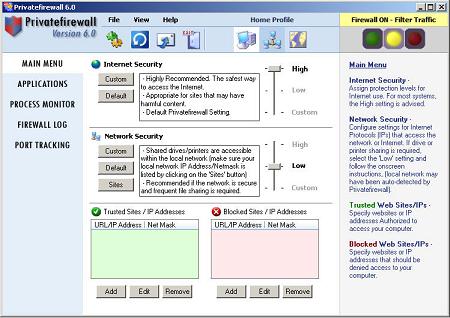 Privatefirewall is freeware and act as personal firewall that is able to detect, block and quarantine activity characteristic of known malware, hacking, phishing and other threat types. It has a user friendly interface which let you manage your firewall settings easily. Some of the features can be summarized as below:
• Inspect every packets which are sent or received to/from you computer: Monitor all communications between the computer and internet and is able to detect and blocks all unauthorized traffic. You can adjust security level (High/Low/Custom) to establish different level of security for internet and local network access.
• Process monitoring: Monitor all running processes and give you alert when there is any potential malicious process attempts to attack your computer.
• System anomaly detection: System anomaly detection engine will benchmark the normal usage of CPU utilization, threat count and others and provides you alerts if unusual activity is detected.
• Intelligent tray alert: Compact and user friendly tray alerts provide detailed information about security events and offer native web search for convenient investigation.
• Stealth mode: Your computer will become invisible when online so that it is not be noticed by intruders.
• Port tracking and reporting: All ports are monitored and prevented from any unauthorized access. A very detailed report is generated on all monitored ports which contains application name, process id, protocol, local and remote address.
• Email anomaly detection: Track outbound email delivery behavior and provides alerts if there is unusual outbound email activities.
Privatefirewall 6.1 is absolutely free to download and is compatible to run on Windows 7, RC1, Windows Vista (all 32 and 64 bit), Windows XP (Home, Professional), Windows Server 2003 and Windows 2000 Professional. The only hardware pre-requisites are it requires system with 166 MHz CPU or faster, 8 MB RAM and 10 MB of free disk space. Users can refer to Product Tour for second level details of all great features being offered by the utility.