Imagine in a shooting event that you can't really view and shoot due to obstruction in wrong angle and positioning? This is a common situation for most photographers and in order to handle such situation, Pro-View has released an innovative product that enables live view remotely before you decide to take the shot for more accurate and precise shooting with actual effect that you intend to have.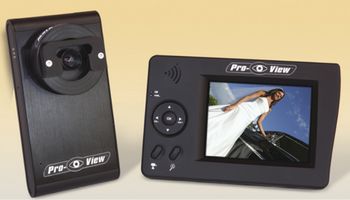 The mechanism behind is pretty much similar to wireless camera usage but has been reinvented into Digital SLR remote view applications based on a high bandwidth 2.4GHz digital FHSS technology that allows video transmission at wider coverage without RF interference. Basically Pro-View consists of a video digital wireless transmitter that will be clipped at the eyeview of the respective camera models and on the other end, there will be a digital receiver that can reproduce exactly of what being seen in a 3.5-inch vibrant color LCD screen at 640 X 460 VGA resolution. Surprisingly, the video transmitter is claimed to be able to transmit up to 500 feet while still able to sustain a 4 hours of continuous operations (for transmitter) and 10 hours (for display) respectively. Besides, it is able to support digital zoom, pan, tilt functions and can scale up to four different camera simultaneously. That is not all, a built-in microphone in the video transmitter and AV- output port on the pocket size display will able to duplicate actual scenario for better control wirelessly and remotely.
Available in quite a number of entries, middle and mainstream models manufactured by different manufacturers such as Canon, Olympus, Nikon and Sony, the Pro-View kit is currently available at $395 targeted for all level of users even including professional photographers.