With the rise in popularity and increased availability of the internet, the security issue of cyber criminals has also increased substantially. Symantec Corp has reported that the current internet threat environment is characterized by an increase in data theft, data leakage, and the creation of targeted, malicious code for the purpose of stealing confidential information that can be used for financial gain. Cyber thefts are not necessarily committed by somebody that you don't know. They can be your friends, your colleagues, or even your own bosses. In view of the continuous cyber thieves' attack, protection of confidential data especially company data is extremely essential. Protection of confidential data can be done in various ways by using various security applications. Of course, it involves costs to apply these measures. There is however one simple measure that you can use to protect your confidential data via a simple but ingenious software, Hide Folders XP.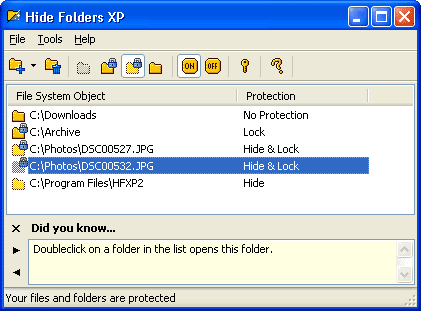 Hide Folder XP is compatible for Microsoft Windows XP and Windows 2000. Users can use this application to protect their folders on their computer. What the users need to do is quite simple: Just drag-and-drop the desired files and folders from Windows Explorer into the Hide Folders XP window or just right click the mouse button on a file or folder in Explorer and select "Hide & Lock with Hide Folders XP" from the drop-down menu. This protection feature by Hide Folder XP is different from the internal Windows XP data protection features. In Windows XP, users can lock folders with Windows XP and this folder will be inaccessible by other (unauthorized) users. But there are some annoying limitations that users should be aware of:
1. Windows allows users to lock files and folders on NTFS volumes only. FAT and FAT32 are not supported. Although nowadays it's too difficult to find a Hard Disk Drive (HDD) formatted with FAT, it's still in use in different removable storage devices.
2. It is impossible to hide folder or file with standard Windows XP facilities. Only file and folder lock is possible.
3. There is no way to make folder invisible but accessible which is helpful for different security tasks like logging, private data recording, backing up etc.
4. A system administrator can easily get access to the locked folders and files.
5. Windows XP home edition doesn't have a user interface to protect files and folders.
6. There is no files and folders password protection in Windows XP (except the password you provide during Windows logon) – as soon as an authorized user authenticate himself by logging on, s/he get access to the protected files and folders. If you share your account with other users, then you can't exploit Windows' folder protection features.
The Hide Folder XP Version 2.9.2 has been released. Users can try it for free. However, the free version only allows users to hide two folders. It costs $29.95 to purchase. Users can try the free version via the link HERE.
Summary of the Hide Folder XP's features and benefits
– Unlimited number of files and folders to protect
– Different protection modes: Hide folder, Lock folder, Hide & Lock folder
– Instance protection – It doesn't perform any file scrambling or moving to another "secret" place.
– Protected folders will be inaccessible to all users including system administrators
– Password protection against unauthorized users
– Folders can be protected even in Safe mode
– True stealth mode
– Windows XP x64 compatibility
– Optional Windows Explorer integration
– Evidence elimination
– Hot keys support