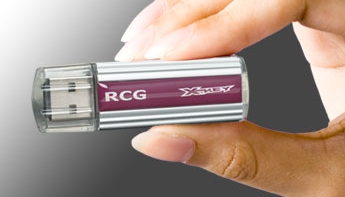 Digital Technologies have substantially changed the way we are living nowadays. New digital ideas and electronic gadgets come out rapidly everyday. The changes have helped us a lot in our daily works. Having said that, the changes brought about by digital technologies also carry the possibility of theft, sabotage and other forms of criminal acts. There is a worrying rise in information security breaches. For instance, members of the new French cabinet have been told to stop using their BlackBerries because of fears that the US could intercept state secrets. Hence, safeguarding sensitive and confidential information is imperative and essential.

RCG X-key is designed particularly for data protection purpose. It is a powerful security tool to protect data from being stolen or being leaked out. It can be used to safeguard data from unauthorised access, accidental deletion and intentional damage.
This security tool is about the size of a standard universal serial bus thumb drive. It actually offers multi-level protection. With the PC lock feature, the X-key protects access to your PC or notebook just with a plug of the key to your USB port. Besides, the X-Key also provides file-level privacy protection. With this function, X-key allows you to hide your files/folders quickly and easily by plugging and unplugging the key. You can also run the hidden files / folders in "stealth" mode in which only the X-Key knows of the hidden file location. X-Key will be able to reveal your hidden files with a "hotkey" when the key is not plugged in.
The X-Key is very suitable for both business and personal use. With its robust security features, at least it gives you some confidences in term of data protection.