Punch Software has released Home and Landscape Design Studio for the Mac at the Macworld Expo. The Home and Landscape Design Studio offers a QuickStart system to help users design a home quickly, a Going Green service with information to help build an energy efficient home, and a new object library for more realistic 3D modeling. With the featured offers, the software is expected to help users save time and money when building a home.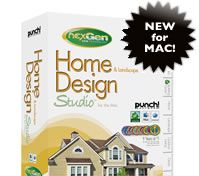 Apart of that, the software able to build a 2D plan and review it in 3D instantly, resize all rooms appropriately, design photo-realistic cabinets and doors. Others features of the software include able to access to Google's SketchUp for importing objects, integrated with online shopping feature and produce large format prints of the designs it creates. To help the new user, the software also includes video tutorials to help users to build from scratch.
The software is available now for the price of $150 and required Mac OS X 10.4.11 or higher( G5 or Intel processor is recommended).