The Canadian largest retailer and e-tailer of consumer electronics, Future Shop has inked a deal with RIM (Research In Motion) to launch a new application for users of Blackberry smartphone, allowing the users to browse and buy their favorite electronics on futureshop.ca directly on their BlackBerry handsets.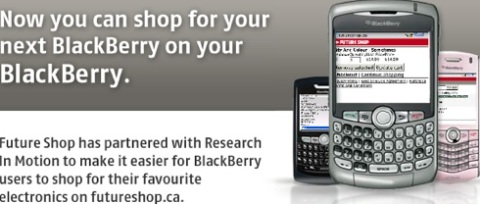 "Providing a customized shopping experience on the BlackBerry platform was a natural match for Future Shop," said Robert Pearson, Director of E-Commerce. "We have hundreds of thousands of tech savvy customers who visit our web site every day and now with this new way to shop futureshop.ca on your BlackBerry smartphone, customers have the enhanced shopping experience they are looking for."
According to the company, "Futureshop.ca's navigation has been directly integrated into the BlackBerry browser menu, boosting user experience by customizing content and the website's format for optimal mobile viewing. Designed to work seamlessly with RIM's BlackBerry Wallet application, personal information and credit card details remains secure, and shopping becomes easy."
The new application for BlackBerry smartphones can be downloaded from http://www.blackberry.com/futureshop.