Qik is a little piece of software that enables you to stream videos directly from your phone to the Web. Use it to stream engaging videos to your friends to the web or as your camcorder to capture entertaining and special moments.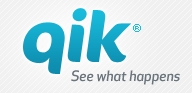 Qik is pronounced as "quick". With that, you can decide with whom you like to share your live transmission with. It is possible to share your moments live to Web sites, blogs, YouTube, Facebook, MySpace, or orkut and notify your friends using short message service (SMS), e-mail, Twitter, or Pownce.
The live video streaming through Qik's global data centers is indeed quick with minimum latency.
This is a community-building tool. By visiting QIK Web site, you can view live and archived videos, comment on them, and share them with your friends. Those popular events that were captured on Qik include the Mars landing from mission control, World Economic Forum in Davos, Switzerland, Heineken music concerts, and interviews with musicians Bono of U2 and Michael Stipe of R.E.M.
Qik is based in Redwood City, California, which changes communications across the world, bringing current events, entertainment, and personal experiences to wider audiences via live mobile video.
Qik application is available on NOKIA S60 3rd Edition and iPhone 3G.