Don't want to be a follower for branded mobile phones and looking for an unique phone? ChinaGrabber is retailing a Linux-based quadband GSM mobile phone that has some unique outlook design and is almost compatible to any networks in the world. Named as BPhone, it is powered by Marvell PXA310 Xscale based processor running at 624MHz that supports quite a comprehensive list of great feature sets.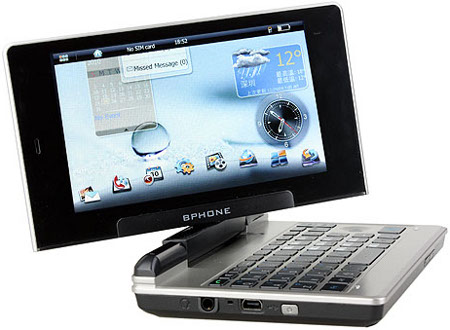 Internally, the processor is backed up by 128MB SDRAM and 256MB of NAND flash ROM with an expandable SD card to support up to 16GB. While its internal specifications may not impress you, its external outlook equipped with 5-inch 800 x 480 touch screen and ability to rotate by 180-degrees may let it stands out from the crowd. Some other features include QWERTY hard keyboard, USB port, WiFi, Bluetooth, FM radio as well as GPS and more importantly, it is claimed to be able to support GSM/GPRS 850/900/1800/1900MHz for seamless roaming and connectivity suitable for those frequent travelers that move globally.
Measured at around 5.71 x 3.74 x 0.96 inches (due to its relatively large display module) and weighted at 10.3 ounces, BPhone will be run by ARM Linux 2.6 Operating System with preinstalled software apps such as audio recorder, MP3, WAV playback, E-book reader and many more. BPhone is already available at ChinaGrabber now at a discounted price of $570 (Normal price claimed to be $800).