Tired of digging into crowded Start Menu? JetStart Free is a unique tool that offers you a quick access to categorized Start Menu shortcuts, recently launched programs and system commands. JetStart Free offers multiple ways to access your program by sorting them into five generic categories, selecting them from a recently used list or newly added programs or search them by keyword.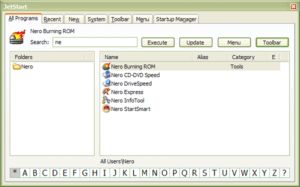 JetStart also features with Toolbar that allows you to quickly access your favorite Windows application by organizing shortcuts with drag and drop features, launch multiple programs at once, activate programs by hot-key or from the tray icon, and drag files from Toolbar to Desktop and etc.
Additionally, JetStart also enable you to reorder buttons on your Taskbar as the way you like. It allows you simply drag and drop any Taskbar button to the new location with your mouse. JetStart Free is available for download.
It also available in Pro Version which offers addtional features such as add your own categories, activate toolbar by holding down both mouse buttons, control autostarted application with Startup Manager, make use of special keys on the multimedia keyboard using Hotkeys Manager and get free updates and priority support.