Veoh Video Downloader is a tiny application which allows users to download and save Veoh videos from Veoh.com. Veoh.com is a video site that offers free media contents such as studio content, independent productions and user generated material. Veoh.com services have been removed from some countries in Africa, Asia, South America and Eastern Europe. Hence, they are not accessible from these countries. For users from other countries who can access veoh.com, the veoh video clips can be downloaded easily via Veoh Video Downloader.

Veoh Video Downloader works well on Windows platform, e.g. Windows 95, 98, Me, NT, 2000, XP, 2003 and Vista. This application allows users to save and download video clips into various popular formants such as avi, mpeg, flv and wmv. It features a clean and simple interface. To download and save a video file, users just need to paste the video's URL into the application, click "Add" and it will proceed to download the video file into the designated folder. The whole process is pretty fast and convenient. Users are allowed to download more than one file from Veoh.com concurrently.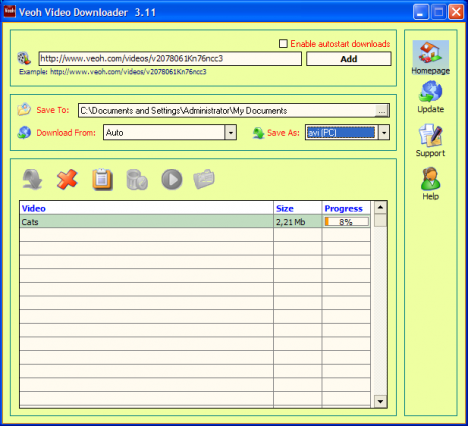 Veoh enthusiasts can download this tiny application via the link here.