You may need to do some translation work for your boss when some documents or correspondences are addressed to him in foreign languages. Many users can easily browse the internet and look for some free online language translation services such as Google Translate to do the translation. Most of these web services require users to copy and paste the contents requiring translation and do the translation instantly. This approach can be quite time consuming and troublesome if the document that needs translation is thick and consists of a lot of pages. In fact many people are probably not aware that Google Translation service offers another translation service via the Google Translator Toolkit that can do a better job.

If you have a stack of documents that needs quick translation, Google Translator Toolkit can surely help a lot. What you need to do is just go to the site, browse the relevant document and upload it to Google Translator Toolkit account.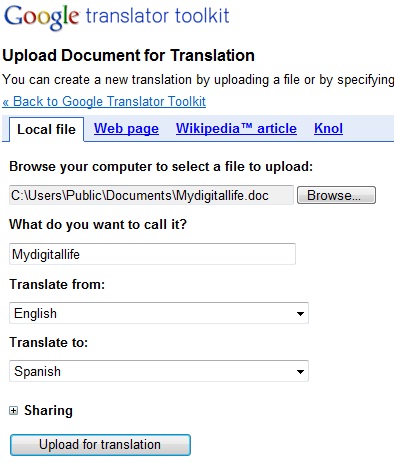 Once it is uploaded, users will see the original document and the translated document appear side by side on the screen. Users can compare the result to the original document for any alteration.


Once users are satisfied, they can just save the document to their account and download the translation to their computer.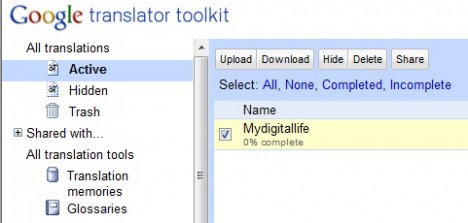 Google Translator Toolkit allows AdWords Editor Archive (.aea), HTML (.html), Microsoft Word (.doc), OpenDocument Text (.odt), Plain Text (.txt), Rich Text (.rtf), SubRip (.srt) and SubViewer (.sub).
Let's see how the Google Translator Toolkit works