The world's leader in providing mobile office productivity software and solutions for mobile devices, Quickoffice has announced the release of its first Microsoft Office viewer for the Android platform, Quickoffice for Android.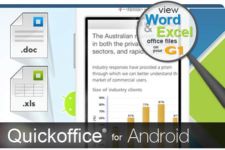 "With the Android platform quickly gaining popularity, it's important that critical functionality for mobile users, such as document viewing, is developed," said Gregg Fiddes, vice president of sales and strategic partnerships at Quickoffice. "We are excited to make this feature available to T-Mobile G1 users with the launch of our award-winning software. We're committed to providing our office productivity solutions across leading smartphone operating systems, and look forward to launching more features and functionality for Android later this year."
The Quickoffice able to allow T-Mobile G1 phone users to view, access and manage their Word and Excel files that may from Gmail or saved on the memory card. Beside that, the users also allow to save directly from Gmail for view later. Featured with robust zoom and scrolling throughout the documents without affect the original document formatting. In addition, telephone numbers, Web sites and email address are hyperlinked directly from Word files.
Quickoffice also integrated with Quickoffice 1.0 file manager that allows users to navigate through folders on their memory card, rename or delete files, view files properties as well as sort the documents by name, type, size or date modified. Quickoffice will be available in Android Market and is priced at $7.99.