Posted:
December 29, 2009
/
Under:
Operating Systems
/
By:
My Digital Life Editorial Team
Most instant messaging client programs saves and stores user ID and password credentials in registry or file location in encrypted form, so that the user name and password can be used to automatically login to the messenger account. For example, Windows Live Messenger (MSN Messenger), Yahoo! Messenger, ICQ and Google Talk all has such a password saving capability.

With the convenient of automatic sign in to instant messenger account without even having to enter user name and/or password, most users tends to forget or misplace the password for instant messenger program. The recovery of password is still possible if user remembers secret question and answer for the messenger account. If all means of recovering, remembering, retrieving and getting back the password for
Messenger Key is a software program that helps user to retrieve and recover password of MSN Messenger, Windows Live Messenger (WLM), Yahoo! Messenger, Google Talk and ICQ which is stored and saved by the IM client program locally. And, Messenger Key can recover passwords used within IM client program instantly.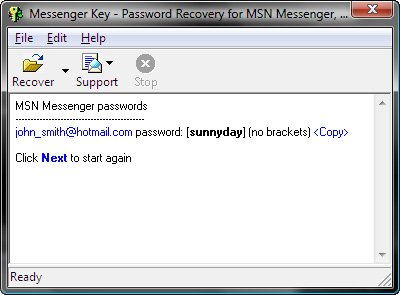 Features of Messenger Key:
All versions of Mirabilis ICQ starting with ICQ 99 are supported
Mirabilis ICQ Lite is supported
MSN Messenger is supported
Google Talk Messenger is supported
Yahoo Messenger is supported
State of the art password recovery engine – all passwords are recovered instantly
Multilingual passwords are supported
Full install/uninstall support
Messenger Key is from developer of Asterisk Key, a program used to reveal and recover password hidden and masked as asterisks.
Download Messenger Key: msgrkey.exe