PDF or Portable Document Format is common and widely used nowadays. Each PDF file retains the 2D layout of a document including the text, font, image, graph, etc. Despite the general usefulness of the PDF, there are some common difficulties in recreating or editing a PDF file. These problems can nevertheless be easily overcome with the right PDF editing tool. One of these useful and user-friendly PDF toolboxes is PDFill PDF Tools.

PDFill PDF Tools is a free PDF toolbox which consists of various useful tools for users to recreate or reprocess PDF Files. For instance, it allows users to merge and combine two or more PDF files into a single file. Users who want to extract some pages from a PDF file and send the particular pages to others can also do so via its "Split or Reorder PDF Pages" feature. Like other PDF editing tools, PDFill PDF Tools also features "Add Watermark by Stylized Text" and "Add Watermark by Image" functions for users to add texts or images to the document to protect the copyright. Users who want to save on printing cost can use "Reformat Multiple Pages into One Page" feature to merge multiple pages from a PDF file into one single page when printing. Other useful tools available in this toolbox include encrypt, decrypt, rotate, crop, Header, Footer, Images to PDF, PDF to Images, Form Fields Delete/Flatten/List, and PostScript to PDF.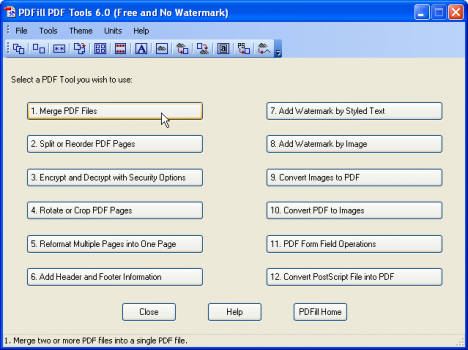 Users who want to try this PDF toolbox can download the application via the link here. After the installation, users need to run the PDFill PDF Tools. PDFill PDF Tools will check the system to see if users have installed GhostScript. If not, PDFill PDF Tools will download it for you automatically. Once GhostScript is installed, users can start using the PDFill PDF Tools.