Wanna warm up or cool down your car before getting in? The leading provider of consumer-branded vehicle security and remote start systems, Directed Electronics has launched its exciting new Viper SmartStart, the clever solution which allows iPhone and iPod touch users to start their car (pre-warm car's cabin in the winter, pre-cool it in the summer) from virtually anywhere with their beloved Apple's mobile devices, working over the 3G cellular network or over Wi-Fi, all without the need of a key fob.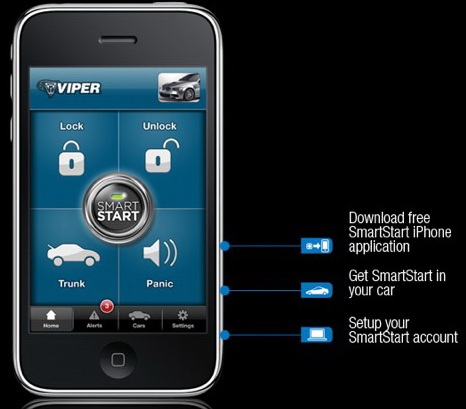 "The growth and popularity of the iPhone has opened the door for a whole new category of products in our business," commented Kevin Duffy, President of Directed Electronics. "Our customers have consistently told us that the two most important features in a remote starter are range and user interface. We developed the Viper SmartStart in response; range is virtually unlimited, and iPhone owners can use the elegant touch-screen interface they already carry in their pocket."
In addition to smart remote start, users also can remotely lock and unlock the doors, pop the trunk, find their car in a parking lot, as well as arm and disarm their car security system.
"We think customers will find all sorts of unique and personal value in Viper SmartStart," said Mike Simmons, EVP of Directed Electronics' parent company, DEI Holdings. "Whether helping out her husband who's locked his keys in the car, or securely locking her keys and purse in the car while she takes a jog with some music on her iPhone, we expect to hear about some uses we never anticipated."
Viper SmartStart System that need to install on a vehicle is now available at Best Buy stores for MSRP of $499, and the Viper SmartStart application for iPhone and iPod touch is available as a free download from Apple App Store.
Watch the demo video of Viper SmartStart below.