A method for malicious attackers to attack and infect others' computers is by offering fake anti-virus software, which does everything malware does except actually scanning and cleaning viruses. Most of the fake rogue anti-virus programs managed to install on a computer through Trojan, false advertisement, security exploit or backdoor.

Once installed with a fake anti-virus such as Internet Antivirus Pro, instead of staying clean from virus, the computer will report false virus infection, alarming parasite infection, bogus system scan and display fake security alerts. The purpose is to convince end-user that the computer is infected with virus, Trojan, or malware, and then pay to purchase full licensed version product or instruction for removal of infections, which never happens.
While most fake anti-virus software mainly focuses on scam to cheat money from computer users, some rogue anti-virus programs may do more harm, such as hijack browser settings, change browser's homepage, perform keys logging, or serves as backdoor for more malicious intent such as remote control the computer or spread viruses. The rogue software itself can also be a virus or Trojan.
Users who have computer installed and infected with fake anti-virus program can download Remove Fake Antivirus freeware to remove, delete, uninstall and clean the illegitimate anti-virus programs from computer system.
Remove Fake Antivirus (RFA) can remove the following rough software (as of version 1.63):
Antivirus 7
CleanUp Antivirus
Security Central
Security Antivirus
Total PC Defender 2010
Vista Antivirus Pro 2010
Your PC Protector
Vista Internet Security 2010
XP Guardian
Vista Guardian 2010
Antivirus Soft
XP Internet Security 2010
Antivir 2010
Live PC Care
Malware Defense
Internet Security 2010
Desktop Defender 2010
Security Tool
Antivirus Live
Personal Security
Cyber Security
Alpha Antivirus
Windows Enterprise Suite
Security Center
Control Center
Braviax
Windows Police Pro
Antivirus Pro 2010
PC Antispyware 2010
FraudTool.MalwareProtector.d
Winshield2009.com
Green AV
Windows Protection Suite
Total Security 2009
Windows System Suite
Antivirus BEST
System Security
Personal Antivirus
System Security 2009
Malware Doctor
Antivirus System Pro
WinPC Defender
Anti-Virus-1
Spyware Guard 2008
System Guard 2009
Antivirus 2009
Antivirus 2010
Antivirus Pro 2009
Antivirus 360
MS Antispyware 2009
IGuardPC or I Guard PC
Additional Guard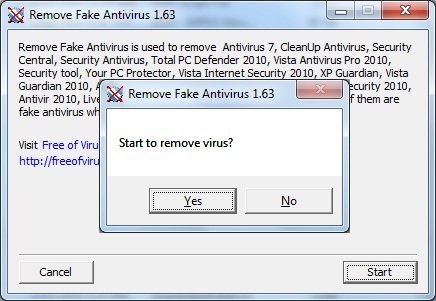 Remove Fake AntiVirus is developed by Olzen, and can be downloaded for free: RemoveFakeAntivirus.exe or Remove Fake Antivirus.exe.