Spyware has always been a big problem for internet users. It is installed surreptitiously on a personal computer to intercept or take control over the users' interaction with the computer and creates substantial disturbance to users. Spyware is growing and spreading very fast in the virtual world of the internet. A survey revealed that more than 90% computers are infected with Spyware! It is a horrifying figure. As Spyware is growing and spreading at a very fast pace, a powerful spyware removal and eraser program is always helpful to detect, erase, delete and clean all forms of malware that might spy and hide inside a system.

Developed by Microsoft Gold Certified Partner, UniBlue System, SpyEraser, is another spyware removal and eraser program that you can consider. The developer, UniBlue System, is a reputable and award-wining software company that also developed RegistryBooster, SppedUpMyPC and ProcessScanner. SpyEraser is another sophisticated Spyware solution product that you can consider. The latest SpyEraser to appear on the market is SpyEraser 2. SpyEraser 2 updates on a daily basis and features pro-active online scanning.
SpyEraser 2 costs you $29.95 to purchase. However, it offers you a free security scan to perform a complete diagnosis of your system and identify the malware, spyware and harmful files. You can download the free scan tool via the download link here to find out whether your computer is infected by spyware. SpyEraser 2 allows you to do scanning in two modes: Quick Scan or Deep Scan. It will alert you about spyware in your database and also those unknown but suspicious to be spyware. Another helpful feature offered by SpyEraser 2 is it Real Time Guard. The Real Time Guard will guide you and let you know about various changes which spywares makes. For instance, it allows you to put some sites in the safe list, take care of the startup process, running process, registry changes, block programs, etc.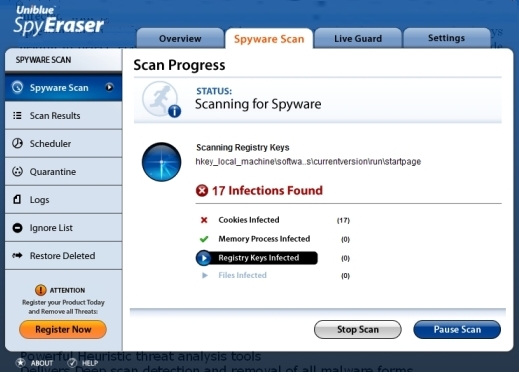 Screenshot of SpyEraser 2
Summary of SpyEraser 2's features
• Delivers Deep scan detection and removal of all malware forms
• Real Time Online Defense protection
• Gives you 'Always On' Live Guard scanning when connected online, for maximum protection
• Intelligent Control Functions
Includes an Alert function, which can warn of new malware threat, even for new variants of existing threat, plus a 'Safe list' function – to minimize annoying and frequent alarms. While the 'Quarantine' function deals with what slips through, easily, in seconds.
• Exceptionally Simple to Use
Set in a highly intuitive, attractive, logical and user-friendly graphical user interface, Registry Booster sets the standard for ease-of-use.
• Safe and Trusted
Avoid crashes, seizures, slow downs and error messages with the safest and most trusted solution from a leading software vendor.