Wonder if a HD (High Definition) display could be a future requirement for your mobile device? Regardless of how much you need it, some media chip manufacturers including Renesas have already started to develop the next generation media processor for this purpose. Just recently, the Japanese company has announced a new mobile media processor that could help to achieve the HD display on mobile device. Named as SH7370, it is claimed to be able to decode full 1080p HD video on mobile device and display it smoothly on your tiny mobile device.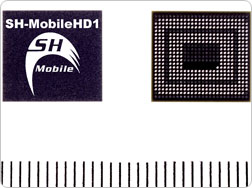 The next generation media processor is claimed to be able to achieve 1080p full HD resolution decoding especially on H.264 codec media playback. Some other supported codec including MPEG2-TS and MPEG-4 that are commonly used in consumer market. Besides ability to decode full HD media playback, the tiny chip, released under SH-MobileHD1 family is also able to do video encode (impressively), offering both video input and output on future mobile devices.
No pricing and availability yet, some samples are already shipped to board vendors for development and evaluation purposes before they are available for broad market.