Previously we mentioned about PhotoRazor or PixResizer that can be used to downsize photo images in bulk, now here is an alternative that you can consider. Named as Resize My Photos, it is a tiny and simple utility that can be used to convert photos in bulk while still able to maintain its high quality without occupying much of your hard disk space.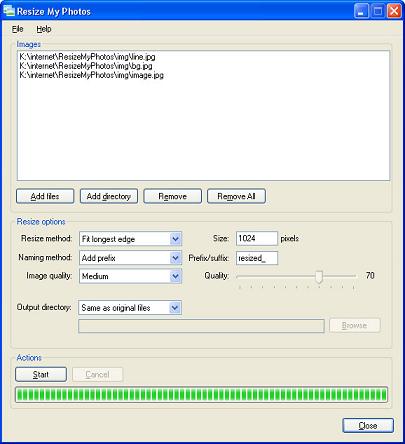 Once install and launch the utility, users will be brought to a simple GUI. Over here, users can select to add any specific files or the whole directory by browsing to them without complicated configuration. On top of this, there are various options that allow users to customize the file size, either fitting it by height, width, pixels or the image quality that will contribute to the converted file size and quality. Once these are defined, just choose the output directory, could be same as where the original files are stored or to any new directory. Either way, users can define the prefix/suffix so that the new files can be differentiated easily by naming convention other than the file sizes. Click on 'Start' will execute the conversion immediately. To simplify the conversion effort, the utility has been integrated into Windows Explorer Context menu and with simple right clicking on a particular photo images allows users to convert them easily.
Consumed around 500kB of your hard disk space, this is an ideal utility that can perform the required conversion tasks yet is friendly and simple enough without complicated setup. Users can get a free download here for immediate use in Windows OS environment. Only one pre-requisite, it will need the Microsoft .NET Framework 2.0 or later to work correctly.