Have you ever experienced that all data you have typed in the form has disappeared due to accidentally clicking on other link or error occured after hitting submit button? When click back button, it either display page expired message or display the blank form. Another common scenario may happen to all of us is accidentally close the browser or computer hang when you are on half way typing the long email or writing blog. Regardless of which scenarios, it could be frustrating and irritating as you need to re-type the data all over again, and even worst is you may not able to recall 100% of the content that you have typed. Now with Lazarus released as Firefox add-on, you no longer suffer from this crisis anymore since it lets you restore the form or email/blog content with just a single click.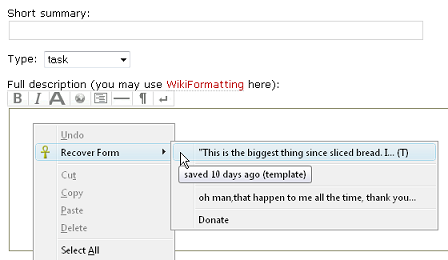 Lazarus is a free Firefox add-on which will auto save all the data you have typed in the browser so that the data can be restored whenever you need. Lazarus will automatically save the data while you are typing and save the data again when you click the submit button. When there is a need to restore the data, just go back to the web page and right click within the web page then choose Recover Form from the context menu. You probably curious where the data is kept and is it secured or protected from being retrieved by anybody who has accessed to your computer. All the data saved is kept in SQLite database which is located in your profile folder and the data is encrypted with Firefox's Software Security Device. Lazarus is well designed to ensure your privacy data is protected and not easily access by anybody. With "Set Firefox's Master Password" feature, once you have configured this password, you are required to enter the password each time you want to restore the data. This feature provides another layer of protection as only person who know the password is allowed to restore the data. On top of this, you can set duration of keeping the data in SQLite database. For instance, if the duration is set as 30 mins, the data will be deleted from the local drive once it reach 30 mins after it was saved.
With the great feature offered by Lazarus, it definitely can eliminate the hassle of the need to re-type the data all over again when such a misfortune incident happens.