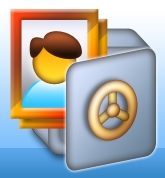 Every digital photographer has taken pictures not intended for public viewing. These pictures were perhaps taken for some personal or private reasons. Anyway, keeping these private photos in your computer without a proper security protection might not be a good idea. These photos can have the possibility of leaking out via various ways, e.g. computer hacked by hacker, somebody copying out the photos when you send your computer for servicing, etc. If you can still recall the recent hot sex photo scandal issue which involved Hong Kong actor, Edison Chen Kwoon-Hei and numerous actresses such as Gillian Chung, Cecilia Cheung, Mandy Chen, Bobo Chan, Vincy Yeung, Maggie Q, etc, it is a classic example of how unprotected photos in a computer can cause irreversible damage. To protect your private photos better, you don't necessary require a safe box to lock them up. All you need is a useful and powerful tool or application. If you don't have any in mind, perhaps you can try this simple but useful application, Hide Photos.

Developed by bolidesoft, Hide Photos allows photographers or users to hide their private photos in a password-protected and securely locked container and restricts access to those without the correct password. It is easy to use; what you need to do is just drag and drop your private photos into a password-protected container and nobody can access these photos unless they know the correct password. Hide Photos reassures users that the securely locked container is safe and it employs the newest industry-standard AES encryption with 256-bit keys as its security measure. There are other aspects of digital photo security than just the length of the encryption key. If you use an encrypted ZIP or RAR archive, no matter how securely the pictures are inside the archive, they are still exposed every time you access a picture. Once you extract a digital image from the archive, it is stored temporarily on your hard disk, leaving the image file unencrypted and unprotected. It is totally possible that the picture remains in the temporary folder after you are done with it, making it an unpleasant surprise when somebody stumbles upon your private photo when browsing the temp files.
Hide Photos has released its latest version, V1.2 Build 804. It is free for users to try for 30 days and costs you $29.95 to get a full license. You can try and download it via the link here. Once you have downloaded it, you can try out this application for 30 days. Have a look on the following screenshots: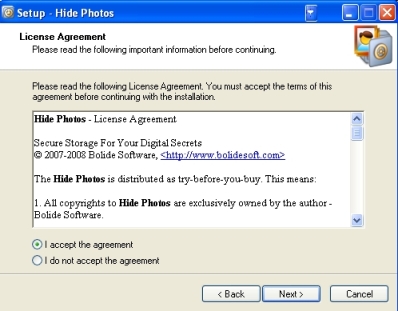 Install Hide Photos – License Agreement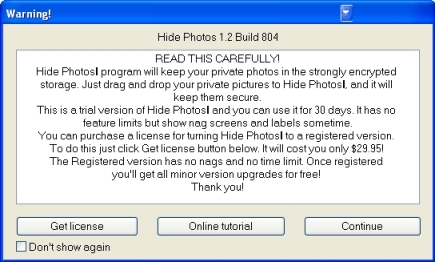 You will be greeted with a warning notice. The notice will remind you that you can try out the program for 30 days.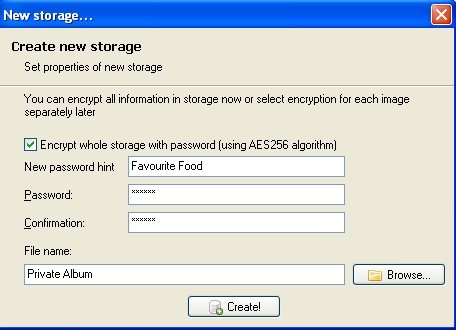 To start up, you need to create your personal storage. You are required to key in password hint, password, file name, etc. Users are allowed to create as much storage as they want. Just go to Menu, select "New" and repeat this process.


You can add your personal photos by clicking the "Add Photos from Folder" button and import your photos to this password protected storage. These photos hide inside Hide Photos will be protected with password.
Overall, Hide Photos is quite powerful in the sense that it protects your photos with good security measures. It never extracts anything onto your hard disk and leaves absolutely no traces while you're busy with the image and after you have finished. However, there is also a downside to this security product. If users forget their password, then they will have a problem to get back or recover their photos.