Ricoh has expanded its popular CX-Series digital camera portfolio with the launch of new ultra-slim, compact and stylish digital camera with 28-300 mm ultra-wide-angle lens – Ricoh CX4, which is equipped with 10 megapixel back-illuminated CMOS sensor, 10.7x (28-300mm) zoom lens, 920k dot 3" LCD, 720p HD video capture, SD / SDHC storage, and custom lithium ion battery pack. The new Ricoh CX4 has an updated sensor shift image stabilization of about 3.7 EV – 3.7 shutter-speed stops to ensure superior photo quality, especially at night or low light conditions. Other features include subject-tracking AF autofocus system that automatically tracks the subject and additional shooting modes. In addition, the software bundle has also been changed, and support for older operating systems such as Windows 2000 and Mac OS 9.x ceased.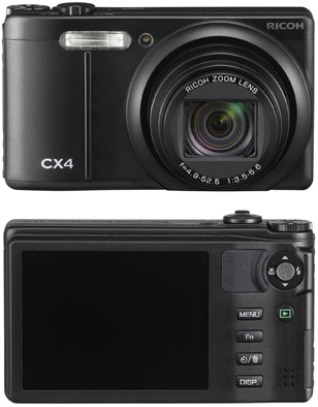 Features of the Ricoh CX4 Compact Digital Camera:
An autofocus system that automatically tracks the subject (subject-tracking AF)
A "creative shooting mode" that offers a choice of six artistic effects
Eleven scene modes such as Portrait, Discreet Mode, Night. Port., Night Landscape Multi-shot, Sports, Landscape, Zoom Macro, Pets, Skew Correct Mode, High Sens, Text Mode
High burst rates of about 5 frames per second (fps) during continuous shooting.
Record HD movies with a frame size of 1,280 × 720 pixels.
The new Ricoh CX4 comes with newly-designed body featuring molded curves that make it easier to into the pocket. The new ultra-compact, high-performance Ricoh CX4 which measures 102 X 59 X 29 mm and weighs just 205 grams is slated to hit the market in coming September for around $399.