Ricoh has recently announced the release of its GR Digital III camera. The GR Digital III camera has similar body design with its predecessor GR Digital II. The CR Digital III has been improved with a F1.9 aperture to achieve greater image quality. The new imaging engine has been integrated with more sensitive sensor to improve high ISO performance.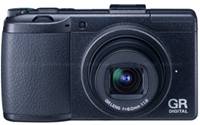 Along with a new 10-megapixel sensor with larger pixel, GR Digital III also continues Ricoh tradition of great image quality, high resolution, low noise and compact body. In addition, it also gains faster AF and supports a 'full-press snap'  function shoots at a preset distance for a one-push full-press of the shutter button.
The new GR Digital III will be available at the price of $873 in middle of August in UK.