Spending time in front of computer has become a norm nowadays and we can easily spend most of our leisure time for activities like playing computer game, surfing internet, watching online movie and etc. If you are looking for a way to control the spending of time in front of your computer especially for your kids, then Romaco Timeout is the great tool for you.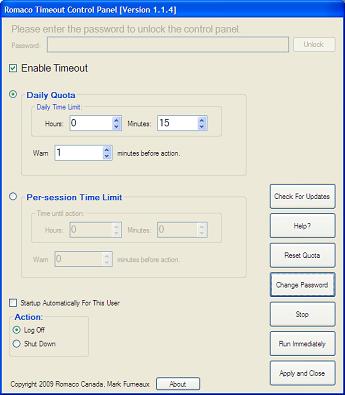 Romaco Timeout is a free utility that is able to limit the amount of time your kids can spend in front of the computer. Once the maximum time limit is hit, it will auto logoff or shutdown the computer. The user will only able to login back if he/she has Romaco Timeout's administrator password. During the first time of tool launching, it will prompt you to create an administrator password which will be used to lock/unlock Romaco Timeout Control Panel as well as to login back to computer once it reach the maximum limit. After the password is entered and created, Romaco Timeout Control Panel will be displayed and this is the place where you can enable timeout and configure the time limit setting. To start configuring the timeout setting, you need to enter the administrator password to unlock the control panel, then tick Enable Timeout checkbox. There are two options you can choose for the timeout, either by Daily Quota or Per-session Time Limit. If you choose Daily Quota, meaning the quota is calculated based on daily basic and once the limit is hit, the user will only able to login to the computer on the next day when the quota is reset. If the user attempt to login to the computer again within the same day, it will force him/her to auto logoff or restart the computer upon 30 seconds of login and below is the message that will be displayed when he/she attempt to login again once the limit is hit.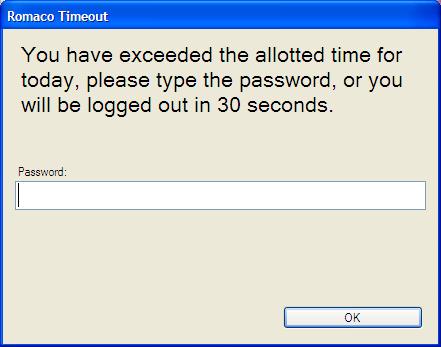 For Per-session Time Limit, the quota will be reset for each session and it will trigger you to auto logoff or restart the computer when the maximum limit is hit for any particular session.
Romaco Timeout ver 1.1.5 is absolutely free to download and is compatible to run on Windows XP/Vista/7. Only one pre-requisite, this application requires .Net Framework 3.5 or higher in order for it to work correctly.