If you are owning a camera and have tried to take a full panoramic view, you may have experienced the difficulty to get a stable and complete view even after many trials. It is still ok if you are using the digital camera where by some unsuccessful trials can be deleted and retake as many times you want. But for those that are using analog camera, then they may need to prepare new films ready for next shots. Here could be the right choice for you! It is quite simple in design but can be very helpful especially for those users that would like to do 360-degree panoramic shots.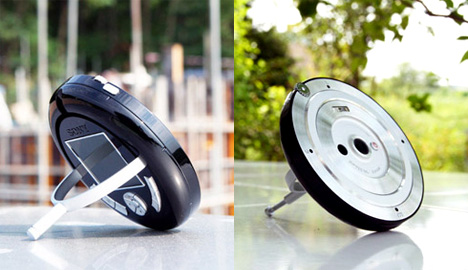 The concept behind this steady shot is simple. If you take a look on the picture, the product is actually designed in round shape with a protruded lead at the center area, which could support the camera rolling around the circle. When the camera is in circular movement, it will snap the photos and stitch them together so that a 360-degree panoramic view can be formed. Furthermore, the angle of panoramic view can be adjusted to fit the best scenarios in. Once the panoramic snap shot is done, the user can always flip the lead back and use it as for normal shots.
Although its shape looks a bit weird for normal use and is hard to hold, but could be very useful especially for those users that do not want to spend extra money on the high end panoramic tripod head.