If you exercise or workout regularly, RunKeeper Pro is probably one of the must-have companion. RunKeeper Pro allows sportsmen, runners, cyclists, hikers, walkers, skaters, swimmers and just about anyone to track, measure and improve the quality of outdoor fitness. While tracking, RunKeeper Pro also make the workouts fun, social, and easy to understand.

RunKeeper Pro uses the GPS technology found in the iPhone and Android mobile device to track fitness activity, in term of the time, distance, speed, pace, and calories, with ability to draw the path taken during the activity on a map.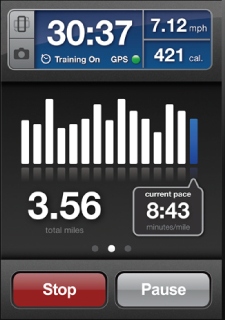 Features of RunKeeper Pro:
Activity Tracking
Personal Dashboard – Store and sync all historical activities on runkeeper.com, where you can keep track of totals and monitor your progress
Maps integration – See the exact path you traveled on a map, both on the device and on our website
Activity Sharing – Share your activities with friends via email, or by posting them to your favorite social sites, including Facebook and Twitter
Listen to the iPod during your activity, and even change tracks without leaving the RunKeeper application
iPod Integration where you can choose one of iPod playlists to start automatically the moment you begin your activity
Audio Cues – Get time or distance-based updates through your headphones during your activity
Create a workout built from intervals of time and/or distance, and let the audio cues coach you every step of the way
Enter a target pace at the start of your activity and get coached on whether you are ahead/behind that pace through your headphones
Take photos without having to stop your activity. Photos are geo-tagged so when you view them on RunKeeper.com, they appear on the map right where you took them
See your split times in the app as you do your activities
Manual Activity Input – Including runs done on a treadmill or without your iPhone
RunKeeper is developed by FitnessKeeper, and can serve as an affordable alternative to expensive GPS watch which typically used by professionals. And now the affordable RunKeeper Pro, which normally costs $9.99 to purchase from iTunes App Store or Android Market, is even cheaper – free of charge.
In order to introduce RunKeeper Pro to more people, to build a large community that is actively using RunKeeper to help achieve their fitness goals, and of course to promote the app to top of the chart, FitnessKeeper is giving away RunKeeper Pro for free until end of January 2011.
RunKeeper Pro is available for iPhone, iPod touch, iPad (iOS devices) and Android smartphones, where both versions are free.
Download RunKeeper Pro for iOS from iTunes App Store.
Download RunKeeper Pro for Android from Android Market (or scan the QR code below).