Many parents are concerned about their kids' easy access to explicit sexual content in the net. This is a major concern as exposure to illicit material at a young age can lead to these children being targeted for sexual crime besides whetting their curiosity to get involved in sexual activities without proper guidance or well beyond its appropriate time. To prevent innocent kids from being lured into sites that contain explicit sexual content, Google has, in fact, incorporated a SafeSearch filtering feature in its search engine to assist parents to exercise some parental control. Many parents are not aware of this filtering feature which can eliminate most inappropriate material and reduce the chances of kids being exposed to it.

To activate SafeSearch filtering, users can go to the classic Google Start Page, then click on "Settings" located at the top of the screen and select "Search Settings".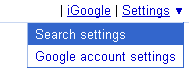 Look for "SafeSearch Filtering" section in the Global Preferences setting page. Users can select one of these filtering rules to filter the search result from the search engine:
Use strict filtering (Filter both explicit text and explicit images)
Use moderate filtering (Filter explicit images only – default behavior)
Do not filter my search results
Parents can set "Strict Filtering" so that all the search results will be filtered thoroughly for both explicit text and image contents. Once users have done the setting, it is advisable for users to lock the setting so that other users can change back the search setting. To lock the setting, users just need to click on to the "Lock SafeSearch".

In the sign-in page prompted, users need to key in the password to set the lock to it. Once you have typed in your password, the search engine will start locking the SafeSearch feature across all Google domains.

To differentiate search result that is SafeSearch locked, the search page will show the words "SafeSearch is locked" under the search box and four large colour balls will appear at the top of the screen.

Users can check out the SafeSearch locking video tutorial below:
Undoubtedly kids can still use other search engines to browse for explicit contents if they want to. But Google's SafeSearch offers an alternative to concerned parents to filter material accessible to young kids. Ultimately education and awareness is still the best tool to combat the menace posed by of sexually explicit content on the Internet.