Samson has announced a brand new device which called as Q3 Handy Video Recorder. The Q3 has been enhanced with the use of microphone capsules which similar to the use in for greater audio reception. The Q3 is targeted to video podcasts, journalism, education, recitals, weddings, sports and etc.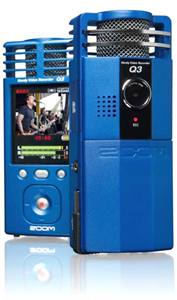 Key Features of Q3 Handy Video Recorder:
Built-in stereo condenser microphones with X/Y configuration for true stereo imaging.
Get up to 1 hour of video with bundled 2GB SD card.
Supports up to a 32GB SDHC card for 16 hours of recording time.
Large 2.4-inch LCD display with a resolution of 320 x 240.
Video resolution of 640 x 480 at 30 frames per sec.
In MPEG-4 SP video format.
NTSC / PAL TV output.
Optics Lens Type: Fixed Focus (0.8m to infinity).
Audio formats with video which including 44.1/48kHz 16/24-bit Linear PCM WAV or MP3 up to 320kbps.
Audio only formats which including 96kHz 16/24-bit Linear PCM WAV.
Auto Record Level automatically adjusts audio levels during recordings.
Uses two standard AA batteries or NiMH rechargeable batteries.
USB 2.0 with built-in cable.
Windows and Mac OS compatible.
Built-in speaker and tripod mount.
Includes on-board editing software, YouTube uploader software, Apple Quicktime, TV cable, softcase, windscreen, 2GB SD card and two AA Batteries.
The Q3 Handy Video Recorder is available for the price of $249.