Intended to place both of your SIM cards into a phone, then Samsung Ch@t 322 may be an option for you. Samsung Ch@t 322 is the first dual SIM cards phone from Samsung which has been designed to support two cellular operators at the same time. The phone has been enhanced with full QWERTY keyboard for text messaging. The social networking services has been improved with DUOS UX interface for quick access to Facebook, Twitter, MSN, Yahoo!, Google Talk with a special "smart home" toolbar.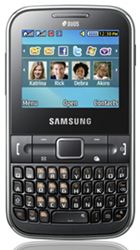 Featured with a 1.3-megapixel camera with 1280 x 1024 resolutions, the Samsung Ch@t 322 is also integrated with GPRS and EDGE connectivity. Other features of the Samsung Ch@t 322 includes a 3.5mm audio port and optical trackpad, Bluetooth 2.1 enabled with A2DP, preloaded with music player and supports extended memory with built-in microSD card slot.
Available in back, wite and pink, the Samsung Ch@t 322 is expected to be available in Russia then follow by CIS, Southeast Asia, India, China, Middle East and Africa. However, the price of the phone is not yet announced.