The leading mobile phone distributor in the U.S, Samsung have announced the availability of the fashionable and functional flip phone, Samsung Gloss SCH-u440. The new compact flip phone features a full-QWERTY keyboard that is revealed when it is opened and stereo Bluetooth for easy hands-free communication. Music listeners can skip through tracks in the Gloss music player and listen to music by using stereo Bluetooth technology. In addition, the Samsung SCH-u440 has support for U.S. Cellular's EasyEdge wireless data application service. EasyEdge services gives users easily access to voice-guided turn-by-turn directions, news and weather applications, games and other. Furthermore, the 2.2-inch TFT internal screen which feature CIF resolution with 352 x 288 pixels display.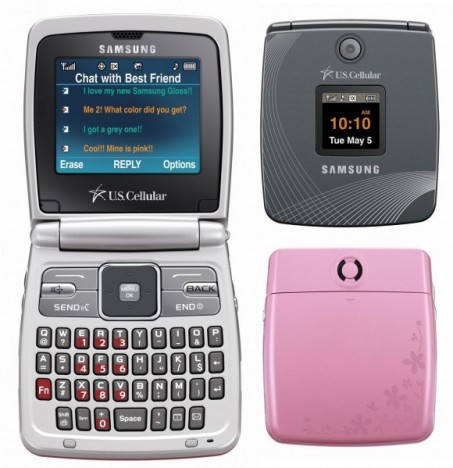 Key features of the Samsung Gloss SCH-u440
2.2-inch TFT internal display by 262k color
Full QWERTY Keyboard
Stereo Bluetooth Enabled
1.3 Megapixel Camera
Music Player
Easyedge Service
MicroSDHC card slot
Supports up to 16GB of external memory
The new Samsung SCH-u440 is available in two colors: Pink and Charcoal. The phone measures just 2.55 x 2.94 x 0.82 inch. Samsung SCH-u440 currently available at U.S. Cellular retail locations or through UScellular website but the price has yet to be announced.