Samsung Mobile introduces a new lineup of full QWERTY-keyboard phones, i.e. Samsung Gravity 3, Samsung Gravity T and Samsung :) (Smiley). Available exclusively through T-Mobile USA, the phones are powered by its high-speed network. Each phones includes a new social networking feature called T-Mobile Social Buzz, which integrates popular social networking sites into one application. When not actively in use, Social Buzz run in the background and delivers pop-up message notifications.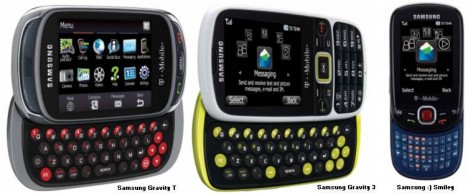 The Gravity 3 comes with an external T9 keyboard and a slide-out, full QWERTY keyboard. Whereas, the Gravity T features a customizable 2.8-inch touch screen. Both Gravity devices come with a 2-megapixel camera and camcorder, built-in music player, HTML browser and support for up to 16 GB of expandable memory.
The Samsung :) features a compact, rounded-edge design and a slide-up vertical QWERTY keyboard. It comes with a dedicated shortcut for quick access to messaging applications, including text, picture, video and instant messaging, as well as Exchange and personal e-mail capability. The :) has easy-to-use interface, a built-in camera and camcorder, a music player and support for expandable memory.
Samsung :), Gravity 3 and Gravity T are now available in T-Mobile USA network store.