Released for Sprint, Samsung Highnote (SPH-M630) is a music phone that replaces the Samsung Upstage and the LG Muziq. It offers eye-catching slider design and a new menu interface.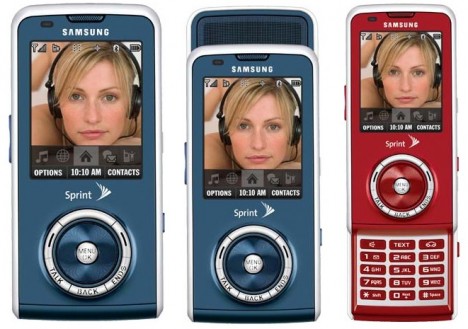 Design
The phone comes in a sharp slider design in red or blue. Taking a closer look, the face of the Highnote expose the numeric keypad when slides upward, with sturdy mechanism. When slides downward, the well-placed stereo speakers is exposed. It measures 4 inches by 1.9 inches by 0.6 inch and 3.5 ounces, with a slim profile but solid and comfortable feeling in the hand. 
The phone features 2-inch display supports 262,000 colors (220×176-pixel resolution). The Samsung menus are simple and intuitive with Sprint's One Click interface. With One Click, users can personalize a shortcut bar to conveniently access text messaging, web access, email, Sprint Navigation, Sprint TV and Sprint Music Store.
On the right spine, there's a 3.5mm headset jack, a volume rocker, the microSD card slot, and a handset locking switch. On the left, there is camera shutter, a music player shortcut and a micro USB slot. Finally, the camera lens sits on the phone's backside.
Features
The Highnote supports a 600-contact phone book with room in each entry for six phone numbers, two e-mail addresses, an instant messaging handle, a URL, and notes. The user can save callers to groups and pair them with a photo and one of 20 polyphonic ringtones. 
Some common features include a vibrate mode, text and multimedia messaging, an alarm clock, a calculator, a calendar, a memo pad, a world clock, a voice memo recorder, and a tip calculator.
There are other additional features, such as stereo Bluetooth speaker-independent voice dialing, USB mass storage, PC syncing, an application manager, voice messaging, instant messaging, and Web-based POP3 e-mail. You'll also find the application, Sprint's Family Locater and the carrier's contact backup service.
The Highnote can be connected to Sprint's Power Vision for Sprint TV to view live and on-demand programming from a variety of sports, entertainment, and news channels. You can also get Sprint Movies, a selection of premium channels, and more than 150 channels from Sprint Radio. 
When the the highnote slides up, shortcuts for games, the music player, and the TV application appear on the display. To get music to the phone, you can access to the Sprint Music Store for wireless download or transfer music from a PC using a USB cable. When a call comes in, the music will pause automatically and will resume again after hang up.
Specifications
Manufacturer : Samsung
Part Number : CNETHIGHNOTEREDSPT
Cellular technology : CDMA2000 1X
Wireless Interface : Bluetooth (A2DP)
Dimensions : 4 inches x 1.9 inches x 0.6 inch
Combined with : With digital camera / digital player
Service provider : Sprint Nextel
Digital Camera : Camera highlights With a resolution of 2 megapixels, this camera phone will give you better pictures than other phones.
Display Type : LCD display
Display technology : TFT
Display Resolution : 176 x 220 pixels
Color Depth : 18-bit (262000 Colors)
Phone style : Dual slider
Antenna : Integrated
Other features: Vibrating Alert, Polyphonic Ringer, Alarm Clock, Calendar, Voice Mail Capability, Short Messaging Service (SMS), Internet Browser, Digital Player, Audible Battery Alert, Automatic Redial, Call Divert, Call Barring, Call Hold, Caller ID, Call Waiting, Volume Control, Ringer Control, Conference Call Capability, Computer Link, Physical Characteristics