Samsung has announced the upcoming launch of its new compact, simple-to-use full HD digital camcorder, named as Samsung HMX-Q10, which comes equipped with an innovative new Switch Grip (both Handed Grip) technology that able to recognize how the Samsung Q10 is being held (left or right handed – even at difficult shooting positions), and turns the LCD screen accordingly (with the help of built-in G-magnetic sensor) for easy recording experience.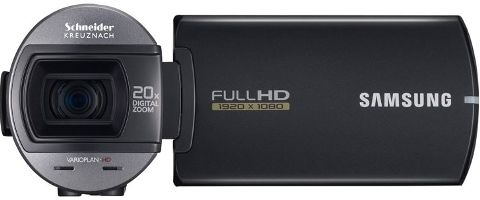 "The launch of the HMX-Q10 is particularly important for us as it is one of the best demonstrations of Samsung's continuing innovation, providing high performing features and design in a model that makes the best camcorder experience available to all our customers," commented Mr. Hyunho Chung, Executive Vice President and Head for the Digital Imaging Business at Samsung Electronics. "For example, we have developed the world's first Switch Grip technology so that the HMX-Q10 adapts to the consumer's lifestyle and setting – not the other way around. In addition, Easy Operation via the LCD and Smart Access UI takes the confusion out of recording, so that you can instantly record brilliant movies from the very first time you pick up the camcorder without the need for an instruction manual."
Main features and specs of Samsung HMX-Q10:
5 megapixel BSI (Back Side Illuminated) CMOS sensor
Schneider-Kreuznach Varioplan-HD F1.8 lens with 10x optical zoom
Intuitive 2.7-inch LCD touchscreen
Support full HD (1920 x 1080 60i) video recording
Easy Operation and Smart Access UI
Optical Image Stabilization (OIS) Duo system
Switch Grip Control
Support SDHC/SD memory card
Enhanced Smart Auto scene recognition technology
Easy Manual Mode setting – white balance, exposure, backlighting, self timer and C.Nite
The new affordable Samsung HMX-Q10 full HD camcorder which measures 43.7 x 53.3 x 119.4 mm is scheduled to be available in coming February for a MSRP of $299.