Samsung has announced the upcoming launch of its new groundbreaking Samsung HMX-T10 full HD camcorder, which features an advanced 5.1MP BSI (Back Side Illuminated) CMOS sensor, 2.7-inch touchscreen, 10x optical zoom lens with Optical Image Stabilization, SD/SDHC memory expansion slot, and an innovative 20-degree slanted lens for an ultimate user comfort, eliminating any discomfort to their arm or wrist. Samsung HMX-T10 is able to capture high-resolution 4.7-megapixel still shots and full HD video (1920×1080 pixels ; 60i), offered in 3 variants of color – white, black and red.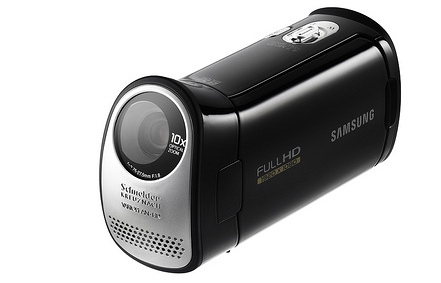 "The HMX-T10 offers not only a stylish, compact design and fantastic recording quality at an affordable price, but also demonstrates the thoughtfulness and innovation Samsung brings to making movie and image capturing a truly enjoyable experience for everyone," commented Mr. SangJin Park, President for Samsung Digital Imaging Business at Samsung Electronics. "The HMX-T10's convenient features, such as the 20-degree Slanted Lens, perfectly encapsulate the innovative and easy-to-use nature of our camcorder range, as well as our aim to remain at the cutting edge of innovation and design."
The new compact, stylish Samsung HMX-T10 full HD camcorder which measures 54 x 56.5 x 115.5 mm is scheduled to be available later this month for $299.