Nowadays technology convergence is a trend with more and more features being integrated into smartphones. While you may have heard about optional pico-projector accessory earlier, Samsung, the giant Korean mobile maker has recently announced a next generation Android based smartphone with built-in pico-projector feature directly into the mobile device. Named as I8250, it is one of the greatest companions suitable for business executives and professionals to eliminate the need of carrying or looking for bulky projector while moving around.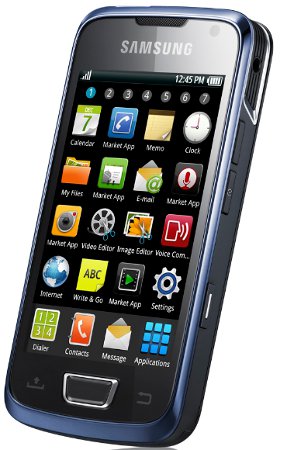 The I8250 is equipped with a relatively large 3.7-inch WVGA Super AMOLED LCD module and when integrated with a 8MP high quality camera, it is no doubt one of the highest end series in today's mobile market. As expected, I8250 is featured with high capacity 16GB NAND storage space to cater for high resolution photo images. And what is more notable here is its integrated pico-projector running with advanced TI (Texas Instrument) DLP (Digital Light Processing) technology that can project image on external surface/wall for customer presentation or sharing session. Other specifications include HSDPA/HSUPA/UMTS cellular networks, GPS, Bluetooth 2.1 as well as 802.11n WiFi technologies that make it an all-in-one smartphone device and all these are well packed into a stylish casing measured around 123 x 59.8 x 14.9mm in dimension.
No pricing information yet, but don't expect it to be cheap especially the DLP Pico-projector module may impact its BOM (Bill of Material) cost significantly. The I8250 is expected to reach both Asia and Europe countries by third quarter of this year.