Sprint and Samsung have announced the availability of upcoming Samsung Instinct S30 phone. The thin streamlined design phone has been improved with web experience and enhanced open development capabilities as compared to its predecessor, Samsung Instinct.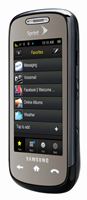 Featured with full touch screen functionality with localized haptic feedback, giving users a gentle vibration as they use the virtual QWERTY keypad, Samsung Instinct S30 is also equipped with a 2.0-megapixel camera with camcorder.
It boasts with a Speech to Action button, which provides many functions using voice activation including call, text, picture messaging, traffic, movie, sports, news and search. Speech to Action bring the users seamless integration with Sprint Navigation to provide audio and visual turn-by-turn driving directions, one click traffic routing and more than 10 million local listings.
Samsung Instinct S30 also comes with the Visual Voicemail feature that lets users to listen to message according to their favorite and manage them with a simple tap on screen. Additionally, it also allows users to access Sprint TV and Sprint Music store to watch television shows or listen to the music, preloaded with popular games like "Guitar Hero World tour" and "Are You Smarter Than a 5th Grader", built-in MP3 player, supports Opera Mini 4, supports microSD card, video recording and 1000mAh battery.
The Instinct S30 will be available from April 19 for the price of $129.99 with a two year service contract and after $100 mail-in rebate.