Samsung Mobile and Sprint have announced the upcoming availability of Samsung Intrepid (Samsung SPH-i350), the dynamic Windows phone that combines Windows productivity, rich Internet browsing and advanced personalization options, including a diverse selection of designer themes as well as the ability to create an original look for your smartphone thanks to the built-in theme creator.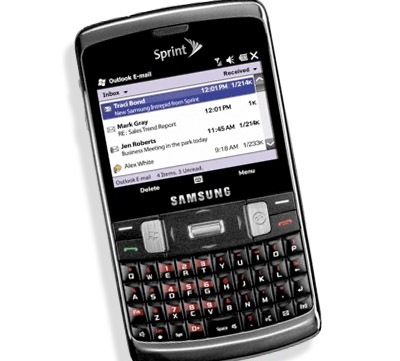 "Samsung is excited to have the Windows phone operating system integrated into the new Samsung Intrepid," said Omar Khan, senior vice president of Strategy and Product Management, Samsung Mobile. "Intrepid's global connectivity, Wi-Fi capabilities touchscreen and QWERTY keyboard options combined with document editing, imaging and messaging capabilities and enhanced multitasking make this device a perfect fit for international business and personal use."
Key Features Of Samsung Intrepid SPH-i350 (from Sprint):
2.5-inch touchscreen display with 320×240 pixels resolution
3.2 megapixel camera with video recorder capability
Candybar design with full QWERTY keyboard
Customizable Today screen displays the features that user accesses most often and shows important information
Adobe Flash Lite plug-in lets Samsung Intrepid users enjoy rich Flash-based games, videos and other interactive Web content
Users are allowed to receive calls, keep track of upcoming calendar appointments and view recent activities while the phone is still locked, thanks to Lock screen
Windows Mobile 6.5 Professional with Microsoft ActiveSync and Microsoft Office Mobile (edit Word and Excel files, view PowerPoint)
Windows Marketplace for Mobile offers a rich and integrated marketplace of quality applications for purchase using Windows Live ID
Microsoft My Phone service allows users to access, manage and back up their personal information on their mobile device
Microsoft's Tellme mobile application provides voice-enabled mobile search for business listings, traffic, maps, driving directions, movies and weather
Internet Explorer Mobile 6 offers powerful Web search capabilities
Windows Mobile email (work & personal)
stereo Bluetooth and Wi-Fi
Instant messaging and threaded text messaging
Easy access to popular social networking sites, including Facebook, Flickr and Twitter
Supports a variety of Sprint services, including Sprint Navigation, the Sprint Music Store, and Sprint NFL Mobile
Pre-installed SIM
"Samsung Intrepid makes it easier for people to do more on the go by giving them the choice to use voice or touch input on a sleek new Windows phone," said Andy Lees, senior vice president for Microsoft's Mobile Communication Business. "Samsung Intrepid on Sprint's reliable network is a great example of how customers benefit when industry leaders rally around a common goal – in this case convenience."
"Combined with America's most dependable 3G network and Sprint's affordable rate plans, Samsung Intrepid is a great value for our customers who want a Windows phone with International capabilities," said Kevin Packingham, senior vice president of Product Development for Sprint. "This phone offers the robust enterprise capabilities of Windows Mobile 6.5 Professional, and a best-in-class email experience with smooth Web surfing and access to applications that are both useful and fun."
Samsung Intrepid is scheduled to hit Sprint stores beginning October 11 for $149.99, after a $50 instant savings, $100 mail-in rebate and two-year contract.