One of the fastest growing IT companies, Samsung has launched its newest N110 and N120 mini notebooks, featuring same 10.1″ LED SuperBright Glossy Backlit Display, Intel Atom Processor N270 and stylish design, based on Windows XP Home (SP3) OS, aiming to enhance your portable computing experience.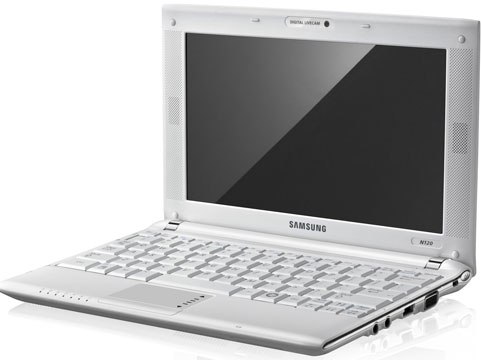 Highlights Of Samsung N110:
10.1-inch WSVGA (1024 x 600 resolution) LED SuperBright Glossy Backlit Display
Intel Atom Processor N270 (1.60GHz, 533MHz, 512KB)
1GB DDR2 RAM and 160GB (5400 rpm SATA) HDD
Ergonomic-friendly 93% full-size keyboard
Bluetooth 2.0 + Enhanced Data Rate and 802.11b/g Wi-Fi connectivity
1.3 megapixel webcam, 2 x 1.5 Watt stereo speakers, 3-in-1 card reader (SD, SDHC, MMC), and 3 USB 2.0 ports
6-cell (5900mAh) Lithium ion battery supports up to 9 hours of battery life
Dimensions: 10.27" (W) x 1.19" (H) x 7.3" (D)
"Our mini notebooks represent Samsung's desire to offer high quality, mobile focused solutions that create user value with important features such as design, ergonomics and battery life," said J.H. Kim, President of Samsung Electronics America's Information Technology Division. "With the addition of the N110 and N120, we have expanded our lineup with enhanced battery life, multi-media speakers and a larger keyboard and touchpad. These key features will satisfy the needs of users looking for audio video capabilities, while also supporting the road warriors needing extended battery life."
Highlights Of Samsung N120 (Same features as N110 except):
SRS 2.1 channel system features two 1.5 Watt stereo speakers with dedicated subwoofer
97% full-size keyboard with trackpad
6-cell (5200mAh) Lithium ion battery supports up to 6 hours of continuous use
Dimensions: 10.71" (W) x 1.71" (H) x 7.4" (D) ; weights: 2.8 lbs
The new Samsung N110 and N120 mini notebook are available now through Samsung's official site and online retailers for MSRP of $469 and $459, respectively.