Samsung Mobile has announced its new advanced WiMAX mobile device – Samsung Mondi, which sports 4.3-inch touch screen display, full QWERTY keyboard and a bundle of impressive features, aiming to provide full broadband speeds, HTML web experience.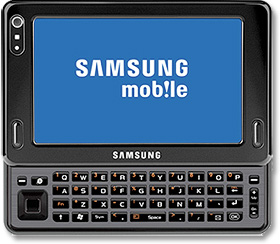 "The Samsung Mondi is an important step toward our goal of bringing 4G network speeds and connectivity to people across the U.S.," said Bill Ogle, Chief Marketing Officer, Samsung Mobile. "The Mondi is a great match for people who want immediate access to the Web without having to sacrifice download speed and portability."
Impressive Highlights Of Samsung Mondi:
3-megapixel camera and camcorder
Microsoft Outlook and Windows Mobile Office
Windows Mobile 6.1
WiMAX Mobile Internet Access
Opera 9.5 Web Browser
GPS: Route 66 Navigation with Preloaded Maps
4GB onboard memory
Direct Push/Mobile Email (POP3, IMAP, SMTP)
Supports Instant Messaging and MMS
Bluetooth 2.0 and Wi-Fi access (BTv2.1+EDR)
Supports various services including Fring, Gypsii, and MS Live Messenger
Supports Multiple Video and Audio Player Formats
HDMI TV Out
"The mobile broadband experience that the Mondi offers to Clear customers places the power of the open Internet in the palm of the hand," said Atish Gude, Chief Marketing Officer of Clearwire. "As our network grows across the US, we will continue to work with innovative device manufacturers to expand the mobile WiMAX device ecosystem and leverage the value that a 4G wireless Internet connection delivers."
The new compact Samsung Mondi WiMAX-enabled mobile Internet device will be available in solid black finish, but no words on its price and availability date yet.