The Korean giant electronic manufacturer, Samsung has recently introduced its SPH-W6450 phone. The new 3G-network compatible double-flip phone is featured with high-end DMB tuner that enables users to watch streaming video content from eight broadcasters and enjoy audio content from nine sources. The flexibility of rotating in two ways has made it much like notebook style.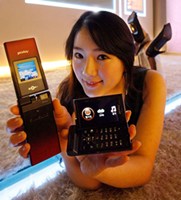 Featured with 2.8-inch screen with touch pad, Samsung SPH-W6450 is also equipped with 3-megapixel camera that swivels with the screen. Beside that, it also supports video calls, MP3 playback capability, Bluetooth 2.0 enabled, built-in web browser and file viewer as well as electronic dictionary.
However, Samsung SPH-W6450 initially will be available in Korea market and is priced about $400.