The well-known market leader and award-winning innovator in consumer electronics, Samsung has announced its new innovative, compact digital camera that provides users an optimum image quality and interchangeable lens system – Samsung NX10, which successfully integrates 14.6MP APS-C CMOS sensor with a mirrorless interchangeable lens, featuring a new DRIMe II Pro engine and advanced AF algorithm to deliver ultra fast AF speed with the higher precision of contrast AF.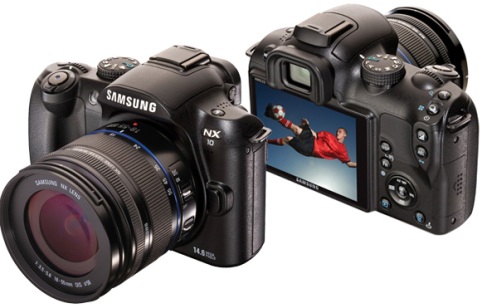 "The new Samsung NX10 marks the start of the next generation of cameras," commented Mr. SJ Park, CEO for Samsung Digital Imaging Company. "We know from our detailed research over several years that what consumers want from their cameras is evolving, which we've reflected in the development of the Samsung NX10. With specialist equipment open to everyone and no longer restricted solely to the professional, more and more people want to capture something creative and tell a story through their camera – but they also want something compact that they can carry around with them all day. The large sensor and the ultra fast auto focus give consumers the quality they demand as well as the compactness they want in one exceptional package."
Key features of Samsung NX10:
14.6 megapixel APS-C size image sensor and electronic viewfinder
3-inch AMOLED screen for easy viewing even in bright sunshine and at acute viewing angles
New DRIMe II Pro engine and advanced AF algorithm
HD movie recording capability (H.264 codec)
In-depth manual controls and Smart Auto function
Smart Range enables users to vividly express both bright areas and dark areas in the same frame
Supersonic Dust Reduction system keeps those dust particles clear of the image sensor
Available in two colors – Noble Black and Titan Silver
"Samsung has always been quick to implement cutting edge technology and no more so when it comes to quality of images," added by Mr. Park. "For the first time in the market, Samsung has successfully integrated an APS-C size sensor into a compact body by eliminating the mirror box, meaning that our users can now be as creative as they want to be on the move without having to compromise on image quality."
Samsung NX10 digital camera which measures 4.8 x 3.4 x 1.6 inches and weights in at 0.78 lbs is expected to be available by Spring 2010. In addition, Samsung NX10 will be on display at 2010 International CES (Consumer Electronics Show) January 7-10.