Samsung has officially announced the launch of its new innovative Samsung NX100 mirrorless digital camera, which the company claims to feature the world's first i-Function lens – the unique, intuitive lens that are designed to explore a seamless image control and creativity with fast manual settings, offering extreme-cool D-SLR power in a single compact device. In simply words, Samsung NX100 owners can control their cool camera at their fingertips thanks to the simple-to-use i-Function lens system.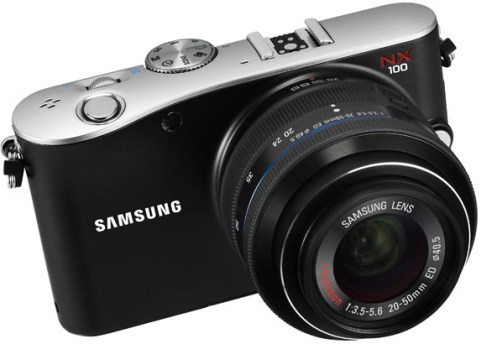 Main features and specifications of Samsung NX100 includes:
14.6-megapixel APS-C CMOS image sensor
3.0-inch AMOLED screen with VGA resolution (640×480 pixels)
720p HD movie capture at 30 frames per second
High-sensitivity ISO 100 – 3200, expandable to 6400
Smart Filter offers an array of creative lens effects
"Our aim is to dominate the mirrorless camera market in the same way that we do in the DualView category, and the new NX100 is the embodiment of that goal," commented Mr. SangJin Park, President for Samsung Digital Imaging Division at Samsung Electronics. "We are the first to create a mirrorless camera with high quality imaging technology which has been designed based on intuitive consumer insights from our in-depth consumer research. This is why we believe that the NX100, alongside the NX10, will cement our leadership in this growing field. Our unique and pioneering i-Function Lens stands out from the competition as an example of our unparalleled innovation, which will appeal to every photographer."
The new stylish, sleek and lightweight Samsung NX100 mirrorless camera which measures 120.5 x 71 x 34.5 mm and weights just 282 grams will be offered in black or brown color, expected to be available later this month for about $599.
According to Samsung, "the NX100 will be equipped with a range of innovative lenses and accessories to further enhance the user's experience. At launch the lens line-up includes a compact zoom 20-50mm lens to provide both high image quality and portability. A small and light 20mm wide angle Pancake lens will be introduced shortly after. Two additional specialized lenses will be available in the first half of 2011 – a 60mm Macro lens and 18-200mm Super Zoom lens. To expand the lens line-up even further, three more lenses will be introduced by the second half of 2011, including 16mm, 85mm, and 16-80mm lenses."