Samsung has announced the newest addition to its successful NX system camera portfolio – Samsung NX11, which adds i-Function lens compatibility that first introduced on Samsung NX100, featuring 14.6MP CMOS sensor, enhanced grip design, RAW capture, (720p/30fps) HD video capture, and more advanced functions ideal for demanding photographers.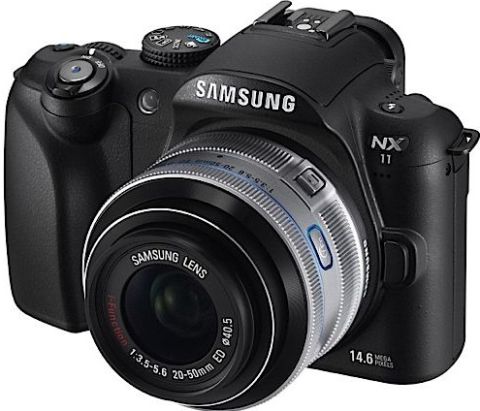 "Today's launch is important for Samsung in reinforcing our position as a leading innovator in the digital camera market and for showing our innovation in the compact system camera market," commented Mr. Hyunho Chung, Executive Vice President and Head of the Digital Imaging Business at Samsung Electronics. "The NX11, while offering the best features of the NX10, has an upgraded design and the additional i-Function capability with more lenses. The launch of our next offering in the NX range also demonstrates our commitment to our customers, by producing user driven innovation in the form of easy-to-use functions and upgraded customization."
Main features and specs of Samsung NX11:
3.0-inch AMOLED LCD display complemented with integrated electronic VGA (640×480) viewfinder and flash
Industry-leading APS-C image sensor ensures superb image quality
Improved usability with new comfortably grip design
Activate common shooting controls such as aperture, shutter speed, ISO and white balance with a single click on one-touch i-Function button
Samsung NX11 which measures 123 x 87 x 39.8 mm and weighs just 353 grams (body only) is scheduled to be available in coming February 2011 for $649 with bundle 18-55mm zoom lens.