The world leader in high technology products, Samsung has announced its new portable, stylish 13.4-inch netbook – Samsung Q320, which features Intel Core 2 Duo technology that delivers unrivaled system performance and enhanced energy efficiency to keep you working longer. The new Samsung Q320 also features a large and spacious keyboard, SuperSilent Mode to reduces fan-noise, high definition frameless LED screen and NVIDIA GeForce G105M 256 MB graphics card that makes it more suitable for multimedia activities such as editing photos or film.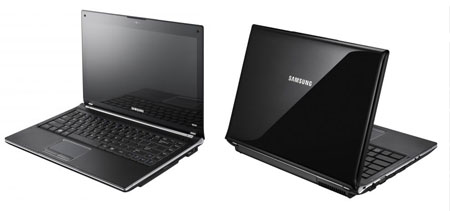 Features And Specifications Of Samsung Q320:
13.4-inch widescreen with resolution 1366 x 768 pixels display
Intel Core 2 Duo Processor P8600 (2.40 GH z, 1066 MHz, 3 MB) / Centrino 2 Core 2 Duo 2.13 GHz processor
RAM DDR2 4 GB
250GB / 320GB hard drive (5400 rpm SATA)
NVIDIA GeForce G105M 256 MB graphics card
Wi-Fi 802.11a/b/g/n (Q320 XE2V 7450), 802.11b/g (Q320 XE2V 6400)
Bluetooth 2.0 + Enhanced Data Rate
Super-Multi Double layer DVD burner
3-in-1 card reader (SD, SDHC, MMC) and 3 USB and eSATA
Waterproof keyboard(Up to 100 cc of liquid based on testing by Samsung)
Silver Nano processing
Battery life of up to 4.5 hours with standard 6-cell battery
EpressCard and HDMI port for connecting the laptop up to an external monitor
Windows Vista Home Premium
This new Samsung Q320 offers in two models, the Q320 6400 and the Q320 7450, which differ as for the hard drive capacity (from 250 to 320 GB) and as for the Wi-Fi which was added on the 7450. It's also worth noting that the Q320 7450 benefits from the Intel Centrino 2 technology with a processor of 2.13 GHz.
The new Samsung Q320 which measures 326 x 228.5 x 33.2~36.6 mm and weighs 2.2kg(with 6-cell battery). Samsung Q320 netbook are available either black or white with prices starting from £670 (price varies according to spec).