Samsung Electronics overtook Motorola Inc as the second largest mobile phones manufacturer globally during quarter two, immediate after recent sales drop announcement by Motorola in both Asian and European market.
Samsung shipped out 37.4 million mobile phones, slightly higher as compared to Motorola sales volume of 35 to 36 million units in quarter two that ended recently. Motorola missed the second quarter sales target of USD9.4 billion and closed with only USD8.7 billion, which has weighed it down after Samsung, and even further away from Nokia.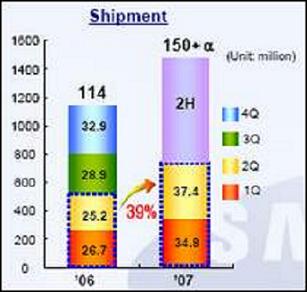 The main contribution of Samsung sales ramping up is due to its famous Ultra Edition product line in established market and rising sales volume of some of its entry level mobile phones especially in emerging market. On the other hand, Motorola failed to gain the market share in mid-end mobile phones and unable to continue keeping its profit margin in established market like Europe countries due to demand saturation. Furthermore, it didn't continue the good selling momentum of its Razr by introducing follow-up models fast enough into the commercial market. Anyway, analysts expect that Razr 2 could potentially turn this around when it is ready to be launched in quarter three this year.
Samsung forecasts higher sales target for the second half of the year to further secure itself in second position. It is expected to capture more market shares by pushing the total sales volume to more than 32 percent as compared to previous year.