The Korea-based company, Samsung has recently announced the release of its new SCH-B750 model in Korea, the handset with UCC (User Created Content) which allows its users to update their blogs with text, audio, image and video editing, then send it straight to video sharing web sites such as Youtube and Pandora TV. All of them is done just with your cellphone, without using a laptop or PC.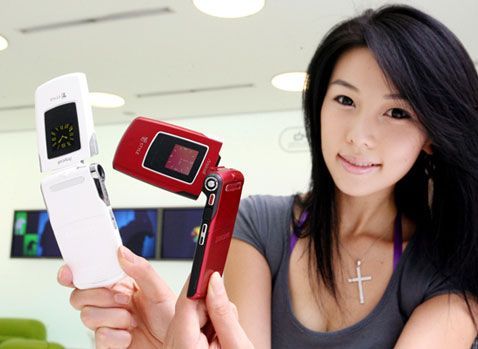 With its built-in 3 megapixel camera that sports an auto-focus feature, you can record the MPEG4 video in 320×240 pixels resolution (or up to 352×288 pixels at CIF-resolution). Furthermore, the latest Samsung SCH-B750 mobile phone also features an 2.2 inch rotating LCD display, an integrated multimedia player, Bluetooth connectivity, built-in DMB receiver for on-the-go TV and 8GB of integrated memory that allows you to store the huge-file videos.
The slim and stylish Samsung SCH-B750 that measures only 16 mm in thickness will be available in South Korea in black, red and white colours for 600,000 KRW or about US $ 650 but no words on area's release yet.