Samsung has expanded its popular SL-series with the latest Samsung SL720 and SL502 point-and-shoot digital cameras, which the company claims as the first cameras in Samsung's SL-Series to feature Face Recognition technology that automatically stores up to 20 preferred faces to the internal memory, and identify them as a priority for focus and exposure while shooting, featuring same 12.2 megapixel resolution, 5x optical zoom, Samsung's Smart Auto shooting mode, Smart Album and Perfect Portrait System (includes Face Detection, Smile Shot, Blink Detection and Samsung's Beauty Shot) to enhance your photography experience.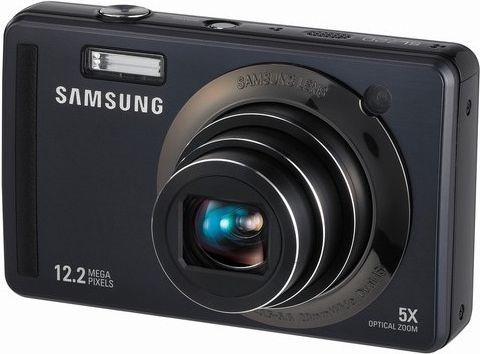 What is the different between Samsung SL720 and SL502? The higher-spec Samsung SL720 incorporates 28mm wide-angle lens, 3-inch LCD screen and Dual Image Stabilization (optical and digital stabilization technology), while Samsung SL502 includes standard 35mm lens, 2.7-inch LCD screen and Digital Image Stabilization.
"These are two of the most full-featured compact digital cameras on the market," commented Reid Sullivan, senior vice president of audio/video and digital imaging marketing, Samsung Electronics America. "Typically, consumers may feel like they have to sacrifice functionality in order to find a digital camera priced within their means, but that's not the case with the new SL720 and SL502. Samsung is giving consumers the ability to experience the latest and most advanced digital imaging technology, helping them step up to a more robust, feature-packed camera which will help take their photography to a whole new level."
In addition, SL720 that utilizes H.264 compression will offer users advanced high-definition (720p) video recording capability, and SL502 just able to record high-quality MJPEG video at 640×480 pixels resolution.
The new Samsung SL502 and Samsung SL720 will be available in coming August 2009 for around $150 and $230, respectively.